Reading
Christianne sent me three books a few weeks ago, after I mentioned how much I miss reading English on a daily basis. She is an avid reader too and also works at Dak. We actually worked together at DCS (Dakota Communication Solutions) as supervisors before it went under. She left for Dak about a month before I did.
Last week I read Salem Falls and this weekend I read Water for Elephants. Both were really good. I love reading. Yes, I read a book over the weekend. Yes, the whole thing.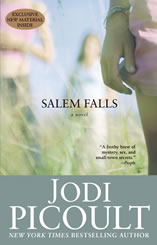 Next week it will be Nineteen Minutes, another book by Jodi Picoult. I read "My Sister's Keeper" by her a while ago and love her writing style.
I used to be in a book club in Brookings. It was a small group of women who worked at Dak. We spent a lot of time discussing things other than the book, but it definitely was a highlight of the month to get together.